A few years ago, in 2008 i saw a Hindi movie called Heroes, which was about Two film academy students, Ali and Sameer, must make a movie in order to graduate. They choose to create a documentary illustrating reasons not to join the Indian Armed Forces and go on a motorcycle road trip from Delhi to Leh on a Kawasaki eliminator bike bearing three letters they have been given to deliver — each from a slain soldier to his family.
in the movie, I saw Leh-Ladakh by road for the first time and fell in love with it. I wished to go there someday and eventually forgot about it in a few years. again after a few years, I came across some videos on youtube about people riding to Leh from different parts of India on motorcycles. my old dream of visiting Ladakh awakened again and this time it was not just about visiting but riding a motorcycle to Leh.
Problem was i didn't knew how to ride a geared bike. when i saw one of my facebook friends post about his leh trip . i decided that ill learn to ride bike and next year go to ladakh at any cost.
[powerkit_toc title="Table of Contents" depth="2″ min_count="4″ min_characters="1000″]
This was in August 2017. I started reading articles on the road, conditions, and tips on riding to Leh-Ladakh and youtube was of big help. Thanks to youtubers like Mumbiker Nikhil, Gagan Choudhary, born to ride, XTREME MOTO ADVENTURE, bulu biker, Sunny Malik and many more for making videos which helped me and many more riders to plan and visit Leh-Ladakh.
So, I decided to visit next and chose June for the trip, As June is the best month to visit Leh and Ladakh. by this time of the year, you'll find roads open and fewer rains. Told my friends about it only one guy said yes and i started looking online and found few WhatsApp and facebook groups where people were planning to go for the trip.
from one of the whatsapp group i met Ravi and from ravi i met Amit Mishra who were also from hyderabad like me. 6 other people were planning to come with us from mumbai but at last moment only 3 joined,
We decided to start our ride on june 16th to planned to finish by june 30th. we booked our flight tickets and rented bikes from rahulmotoz.
Day 1 – 16th June | Hyderabad to Delhi
We started on early morning on 16th June from Hyderabad and reached Delhi by 10:30 am and went straight to Karol Bagh for taking delivery of our rental bikes. We were hoping our bikes will be ready but it took us 3 hours to take delivery after checking bike condition and other formalities.
We started our trip from Delhi around 3'O clock and took our first break for lunch after an hour, as per our plan we needed to reach at least Pathankot on day one but we started late and now it was not possible so we decided to drive till 10 or 11 in the night, but around 8 or 9 PM rains started and didn't stop for 2 hours. So, we decided to find a stay nearby in Khanna, Punjab (yes Khanna is the name of a place). On Day one we rode around 280 KM our target was 400+ 🙂 
Day 2 – 17th June | Khanna to Pathankot Via Amritsar
We started around 10 and today our plan was to visit the golden temple and then ride till Pathankot (300kms). We reached the Golden temple at 4'o clock, the first place I wanted to visit was Jallianwala Bagh. I was wishing to visit this ever since I read about it in Bhagat Singh's story in Hindi book when I was in 6th standard. We missed Wagah border as we were late but it was never in the plan. We visited the golden temple and my first reaction was WOW! one of the best and cleanest temples I've ever seen. Yes, there was a good crowd but no one was pushing each other as people do in Tirupati etc…
We only had a huge paratha in the morning and everybody was super hungry. So, we had our lunch at 6'o clock at Golden temple langar and after that spent an hour shopping there. We started again around 7.30 or 8 for Pathankot and reached Pathankot by midnight, took a hotel near Pathankot railway station only to find our senior guy Amit Mishra was still 3-4 kms and his phone's battery was down too. He didn't know where we took hotel so Sagar, went to look for him only to find he was enjoying a beer with locals :). Had our dinner at 1 and slept. Rode 301 Kms on day 2.
>Day 3 – 18th June | Pathankot to Banihal
This was the day when we actually left city behind and the super silent mountain zones started after udhampur. We hardly came across any traffic on this route and the rock formations of mountains were just amazing. rains started when we were near to rampura so we took shelter near one closed shop after a bridge. after half an hour or so rains stopped and we started again, had some tea and snacks before we reach Banihal, spent some time looking for the hotel and found a hotel called A-one (Nagpal banihal).
Day 4 – 19th June | Banihal to Sonamarg
We started from banihal for sonamarg around 9 in the morning, I forced myself to use my Helmet action camera today only to find the 3M tape on mount got torn apart. I think it was because of the rains a day before, my camera was hanging on my helmet as I connected the charger to it otherwise I would have lost it.
we climbed one mountain and after 1 or 2 hours drive we entered the real Kashmir, all those names we keep hearing in news channels like Anantnag etc.. started coming up. when I read Anantnag first thing what came to my mind was terrorist attacks, encounters but those valleys were completely different. I have no words to describe the beauty of those mountains in Srinagar. we decided to stop at Dal Lake in Srinagar for an hour, parked our bikes near a shop in Nehru park area and went straight for shikara ride where you'll also find floating marketing.
From Dal lake, sonamarg was just 3-4 hours away, I thought this would be easy now. Just after an hour or so temperature dropped suddenly and I had to stop to wear gloves (which I was not wearing since last 3 days). not sure what was the temperature but in Srinagar, it was somewhere 20 odd and near sonamarg, it dropped to 10 degrees or even less.
We saw our first snow-capped mountains on this route and stopped for photos near Sind river about 5-6 kms before sonamarg. We reached sonamarg around 5 or 6, it was difficult to tell if it was 5 or 6 as daylight was good. in-fact sun sets around 8 in the sonamarg.
We immediately took the hotel nearby as it was about to rain and Ravi was not well. after having tea and some Maggi, we went for some hiking/trekking on the hill opposite to our hotel, took hundreds of pictures 🙂 and then the same routine visit market for shopping and dinner, came back when we were about to sleep **POWER CUT**.
Advice: when choosing a hotel don't forget to ask for timings of the power cut, Hot water and if Wi-Fi is available.
Day 5 – 20th June) | Sonamarg to Kargil
About half an hour from Sonamarg is Baaltal, place from where Amarnath yatra begins and about 20-30 miles ahead you'll ride on the mighty Zoji La. I took my first Diamox tablet here as a precaution as it was very cold and I was having and headache. Thanks to amazing roads after Zoji-la we were able to ride at good speed and reached my another dream "Kargil War Memorial"
Its located in Dras, in the foothills of the Tololing Hill. We spent like 2 hours there , watched the documentary on Kargil war, visited Manoj Pandey Gallery, where there is a Hut of Remembrance has boards with the names of all the soldiers Killed in Action during Operation Vijay, Models and photographs of the major battles fought during Operation Vijay are also placed in this gallery you'll also see Weapons, documents, and equipment of Pakistani Army that were captured during Operation Vijay are displayed in this gallery.
Kargil city is just a few miles away from war memorial and we reached soon, stayed at hotel Afzal palace.
Day 6 – 21st June | Kargil to Leh (Finally)
By now, I was not even looking at mountains it was like just ride and reach Leh. I didn't even stop at Magnetic hill, you wouldn't even know when it passed if you are riding at high speeds. The road after crossing Gurudwara Pathar Sahib is just amazing, after a long time you'll see the plain road and fewer mountains :).
Finally, we reached Leh city late in the evening and finding the hotel was difficult task here. on day 1 at leh, we got a hotel (Hotel Tso Mori) just for a night as it was booked from next day. So again the next day morning we had to look for a stay. We moved to tushita Guest house and applied for the permit for Nubra valley and Pangong lake via an agent near leh market.
After having lunch at Punjabi Dhaba (Punjabi Tadka) near Leh market, we wasted our time visiting Leh Palace.
Day 7 – 22nd June | Leh to Diskit/Hunder Via Khardung La.
We started early morning in locally rented bikes (RE Classic 350) from leh, I was sharing the bike with Amit, being a pillion is scarier than riding in worlds highest motorable road Khardung La at 5,359 m (17,582 ft). just when we reached Khardung La it started to snow. if you are riding, I wouldn't advise staying on Khardung La for more then 15 minutes in bad weather. if you are going by car no problem.
From Khardungla, Diskit monastery is about 2-3 hours. We spent some time in the monastery and as it was not dark yet we decided to visit hunder which is just a few miles away from the monastery. Hunder referred to as 'the desert in the Sky" is popular for Double-humped Camels and sand dunes
Note: Only BSNL Postpaid sim will work in this region and Pangong lake, don't believe what airtel ads say.
Day 8 – 23rd June | Diskit to Pangong Lake (230 Km / 6 Hours).
For the first time in our ride, we started early morning around 7. The route from Diskit to Pangong Lake is mostly uninhabited, you'll only come across military camps or people working in road construction or maintenance. Roads are very good on this route, one can easily drive at 80 to 120 kmph speeds.
We reached Pangong Lake around noon, it was sunny and cold, They say one can get both frostbite and sunstroke at the same time here in leh Ladakh. The chilly wind can rip through the warmest of clothes, the thin air does nothing to shield you from the harsh sun. there are very less stay options here and they are super cheap. we got one big room with 6 beds for 1200 a day.
Day 9 – 24th June | Pangong Lake to Leh (150Km / 4-5 Hours).
From Pangong to Leh is almost half is the same route as the Diskit one. Looking at the mountains I thought we are again going via khardungla but No, how can Leh be so predictable. we crossed another worlds second highest pass "Changla (17,688 Ft)". This was our second one which says world second highest pass, by now I was not even sure which are first and second, this was a bit difficult because of the road conditions and steep climb just before changla pass. We stopped at changla pass for tea& snacks and also took help of military personals for a medical checkup for Sanket.
About 50 km before leh road was not so good as it was under construction. Luggage carrier/Ladakh carrier of sanket's bike got broke from multiple places due to bad roads. luckily about 40 km before leh in Karu he found a welder and bike mechanic so our Mumbaikar friends stayed to get it fixed and we rode to leh and took the same Tushita guest house where we kept our bikes which we rented from Delhi. Most of us were tired and wanted to stay in the room itself. I wanted to do some shopping and collect t-shirts which we ordered 2 days ago. so, me and Amit left for leh market again.
Day 10 – 25th June | Leh to Pang (180Km / 4 hours).
Our ride was half done by now and we were ready to return now but we were still over 1000 km away from Delhi. funny thing we had a look at the route from Delhi to leh but never really give importance to leh to Delhi via Manali route. I mean we saw so many videos and they showed the Rohtang etc but not much about the search.
we started from leh, road and views were amazing. we stopped at pang only to find that there is no petrol station till Tandi which was 200+ km and both the classic 350 didn't have enough petrol as their tanks were 14 liters only. we had 2 cans of extra petrol for the last 4 days but used it just in leh :). at pang we came to know about the bad road conditions from pang to Sarchu, it was already 4 o clock and we didn't want to take risk of climbing sarchu without fuel. we took a tent at sarchu at 200 per person. The tent was good, it was raining in the morning and we didn't feel anything inside the tent.
Day 11 – 26th June | Pang to Keylong (180Km / 5 hours).
When we started from pang it was drizzling and just after a few kilometers, it started snowing. Yes, just in 10 odd kilometers rain turned into snow. Roads were not so good for 20-40 kilometer but after that all good except the weather, this was the day we faced extreme weather changes.
This was the most difficult part I faced on the trip, by now I was bored with mountains mainly due to weather. it was cold like -5 degrees, low visibility and even mud at some places. I didn't even know who was behind and who was ahead of me from our gang. Felt so relieved when I was riding down from that place, I stopped for 2 mins at one place just to make my hand warm by keeping my hands in my pocket and there were 2-3 people aged between 20 to 30 were working. I was shocked and inspired at the same time, imagine a place where I was not even able to ride with all warm clothes for 30 minutes these guys were doing their jobs and we sitting in out offices keep complaining about work conditions 🙁
it kept raining/snowing for next 2-3 hours, after a few water crossing and bad roads we reached jispa. at first, we thought of staying but it wasn't dark yet and we thought we can ride till Keylong which was 20 km away. when we reached Keylong all hotel, home stays, and guest houses were full because of some festival called Sindhu darshan.
after looking for an hour or so we found a place in tents and immediately took that. we were happy that at least mobiles were working now as we didn't find network since we left leh 2 day ago. I was happy without the mobile network but we badly needed to inform our family and friends about our whereabouts as they didn't know about network conditions here.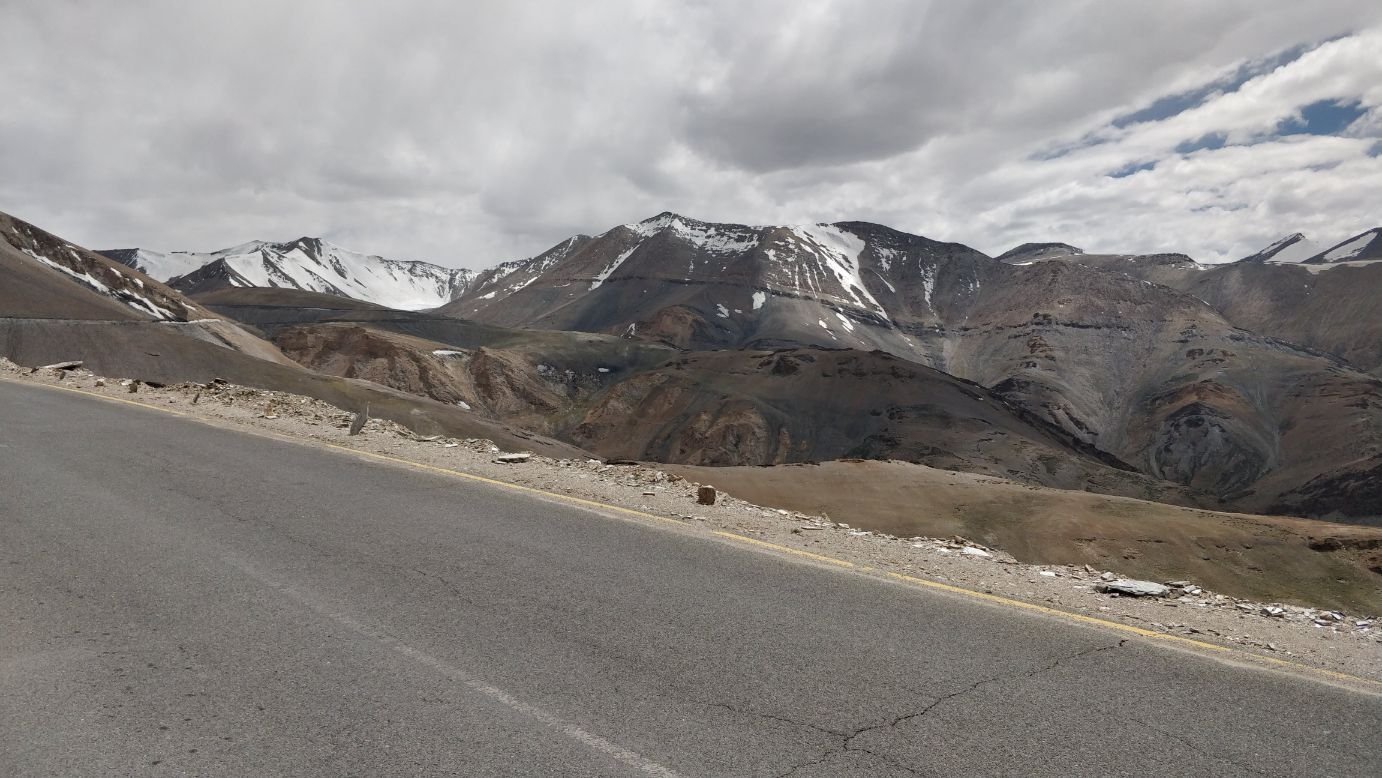 Day 12 – 27th June | Keylong to Manali (120Km / 4 hours).
we started around 9 from Keylong, the weather was still bad and it was drizzling. just after a few kilometers we stopped for breakfast and fuel, the restaurant guy told us that the weather is too bad at Rohtang and suggested us not to go. we saw a lot of traffic coming from and going to Manali so we decided to go. Ravi was not well at all and he was looking for a truck in which we have to keep his bike and reach Manali, Amit and I also changed mind as rear breaks of our bikes were not working and kept our bikes and same truck.
Weather was so bad that if you've read the heading above it says, Keylong to Manali 4 hours ride but it took like 12 hours even in the truck. 20 km or just on half an hour from Tandi we were stuck in a big landslide. I am very sure that landslide happened just a few minutes or half an hour ago as our truck was just 4 cars behind. The army was very quick in clearing the landslide and we started again.
it took us 5-6 hours for 50 kms and we reached kothi, Himachal Pradesh around 12.
Day 13 – 28th June | Kothi to Chandigarh (320 Km / 9 hours).
As we reached the hotel at too late, all the shops were closed and even the hotel we took was not serving dinner this late. We took a hot shower and just slept without dinner.
We woke up around 9-10 in the morning to when I went to the balcony the view was mesmerizing. the best thing was the Sun, we saw the sun after 2 days of snow and rains. we today we Hyderabadi gang started before the Mumbai gang. we stopped at Manali market for some shopping, got our bikes checked and came to know that Amit and Ravi bikes were running too low on engine oil. We bought 5-liter oil and used it on all 3 bikes.
We came to know later that Mumbai gang took time to enjoy the paragliding and zip liner up there. we were thing their bike was not ok and they are getting it fixed. Honestly, I wanted to do paragliding but we were running short on time.
We took our lunch break and kept riding between the trucks and buses. if you see or feel a bus or truck coming there move away as much as you can. those idiot drive blindfolded and roads are dusty. I was lucky to have glasses in my helmet otherwise I don't how I would have managed as my helmet fell from bike and visor broke back when i was getting it serviced on Manali. I was too slow today especially in the evening, was not able to overtake the trucks as it was ghats and dusty.
I thoughts we left mountains behind after Manali, but there one last remaining. Few miles after Bilaspur we crossed Gambar bridge and started climbing another hill, although this was nothing compared to the last few days, I felt we just need we good highway so we can drive at full speed and reach Chandigarh.
For me, this road was even more difficult than Manali. it was pitch dark and very less traffic. I kept checking google maps, again and again, to see if we are on right track. finally, after close to 2 hours of riding, we found a good highway and we entered Chandigarh from one corner and railway station which was on the other end of Chandigarh. We started looking hoping there will be hotels nearby as Mumbai gang was taking the early morning train from Chandigarh.
Day 14 – 29th June | Chandigarh to Karol Bagh, Delhi (250 Km / 5 hours).
We started riding early around 8-9 so we can reach Delhi early. this was an easy ride, as we did in the last few days we started riding and planned to stop for breakfast somewhere on the highway.
We crossed a lot of known names like Kurukshetra, Karnal (i somehow remember this city name since Kalpana Chawla an American astronaut and the first female of Indian origin to go to space was born here who died in the Space Shuttle Columbia disaster), Panipat (From history books) and Sonipat etc…
We finally reached Delhi around 2-3 noon and gave our bikes at Karol Bagh. They checked our bikes for damages etc.. I was very nervous that when I kept my bike in the truck it might have damaged something but to my surprise Amit and Ravi's bike had damages and they had to shell out some 2 to 3,000 rupees for it.
The ride was about to end here but I was not happy to let go of that bike. somehow I felt connected to it all these days whenever I was alone on a road I kept talking with my bike :).
later in the evening we did some shopping in Delhi, had dinner and left Delhi next day early morning to Hyderabad.
The leh-Ladakh ride definitely changed something in me and changed my perspective of travel and holidays, it gave me more confidence, courage and now I think differently when I face difficulties.
All those videos on youtube we watched to prepared for Ladakh ride and nervousness. now if you ask me for a 10,000 km ride ill happily say yes. in fact instead of any usual holidays ill be up for a bike ride anywhere.
Some of my friends asked me when I was planning to go Ladakh Bhai kyu, Jana, hai it door who bhi bike pe (bro why do you want to go, that too on a bike) at first I use to tell them something now I just keep quiet. whether you love nature, mountains, long bike rides or not I am sure you'll love Ladakh for sure once you visit.
So now, my favorite places from the trip, Banihal, Sonmarg, Diskit and Kothi, Manali.