Google's June 2021 core update is almost known to every digital marketer. With each update, markets remain in the dilemma of whether it will harm or benefit their business. Big fishes have not much to lose if they downgrade by the update. However, small businesses are more affected by such updates.
So, the foremost query after the June 2021 core update rolled out was what's in this update and how it will affect the small businesses. Almost every business is conscious about the impact of the June 2021 core update and (if affected) how to bring your audience back to normal.
Before moving ahead, take a look at how the digital marketing industry reacted to the core update.
MozCast: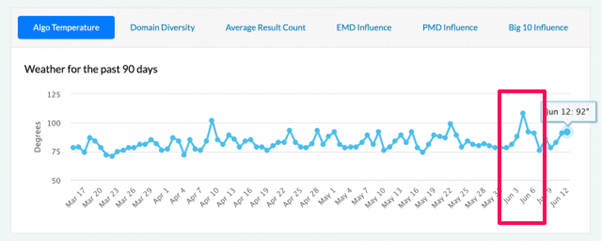 SEMRush: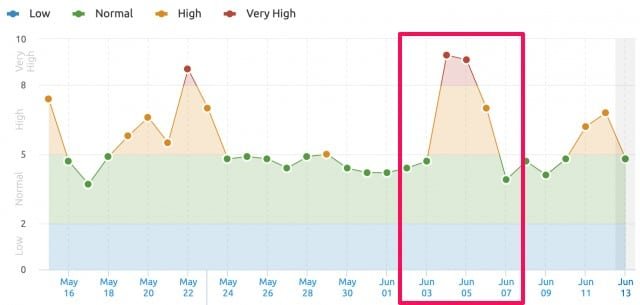 What is Google's June 2021 Core Update?
Firstly, the June core update isn't any unusual update that happens once in a blue moon. Instead, it is among the usual core updates rolled out every few months across the year.
Google provides no specific explanation on what includes in the Broad Code algorithm update released this month. Under Google's core update, the prime focus is always made to filter unhealthy practices and refine the working of Search Engine.
What Are the Impact of June 2021 Core Update?
The interesting part of the June 2021 Core update was that it didn't immediately impact the search results. As few SEO industries experience fluctuations in their rankings, they wait for the official announcement after 2-3 days of its release.
Soon after June Core update was rolled out, Sistrix Visibility Index checked top websites across the globe and enlisted the top winners who earned a traffic hike after this update. They consolidated the search data between 2nd June till 14th June. For detailed analysis, they considered the data of 1900 websites from 31 countries.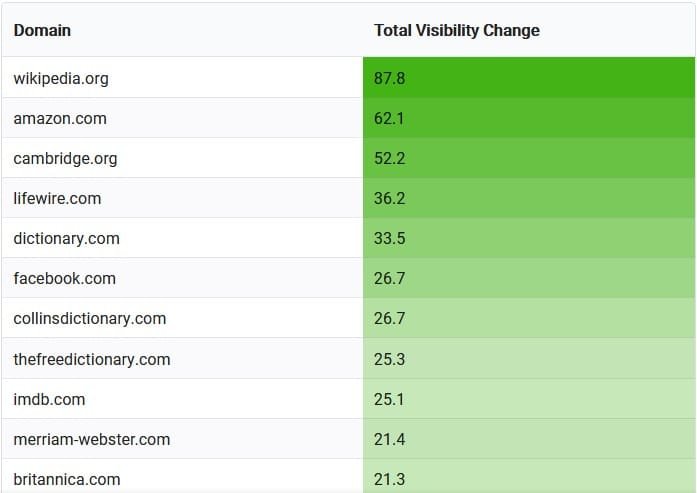 Simultaneously, many top websites also experience downfall due to Core Update.
Core updates are the way to acknowledge whether your efforts are working great for your business or not.
Based on the analysis of thousands of websites worldwide, the category-specific impact was seen. Among all categories, the travel and tourism industry experienced the highest decline in visibility. Simultaneously, websites offering reference material have earned a hike in overall traffic.
How to Recover from Google Core Update (June 2021)?
Google has given some guidelines if the Core Update hits your website(s). Interestingly, there aren't any Dos and Don'ts offered by Google to take your buried website to the sky. Instead, they have given a list of questions to ask and analyze your website (and it's content).
Simply ask yourself the below-listed questions when evaluating your content (Source: Google):
Does the content provide original information, reporting, research, or analysis?
Does the content provide a substantial, complete, or comprehensive description of the topic?
Does the content provide insightful analysis or interesting information that is beyond obvious?
If the content draws on other sources, does it avoid simply copying or rewriting those sources and providing substantial additional value and originality?
Does the headline and/or page title provide a descriptive, helpful summary of the content?
Does the headline and/or page title avoid being exaggerating or shocking in nature?
Is this the sort of page you'd want to bookmark, share with a friend, or recommend?
Would you expect to see this content in or referenced by a printed magazine, encyclopedia, or book?
Questions to ask from an expertise perspective:
Does the content present information in a way that makes you want to trust it, such as clear sourcing, evidence of the expertise involved, background about the author or the site that publishes it, such as through links to an author page or a site's About page?
If you researched the site producing the content, would you come away with an impression that it is well-trusted or widely recognized as an authority on its topic?
Is this content written by an expert or enthusiast who demonstrably knows the topic well?
Is the content free from easily verified factual errors?
Would you feel comfortable trusting this content for issues relating to your money or your life?
Presentation questions to ask yourself:
Is the content free from spelling or stylistic issues?
Was the content produced well, or does it appear sloppy or hastily produced?
Is the content mass-produced by or outsourced to a large number of creators, or spread across a large network of sites, so that individual pages or sites don't get as much attention or care?
Does the content have an excessive amount of ads that distract from or interfere with the main content?
Does content display well for mobile devices when viewed on them?
Above all, Google has been recommending creating content based on the questions listed above. Moreover, it also encourages the use of EAT. EAT stands for Expertise, Authoritativeness, and Trustworthiness.
You can read the Search Quality Raters Guidelines and follow the practices to earn healthy rankings.
As far as June 2021 Google Update is concerned, Google has notified that more is yet to roll out next month. So, the websites with the downfall in traffic may get their traffic back after the July core update.
So, wait for the update and continue creating quality content.
What's More Expected From June Core Update?
Whether you have experienced a hike or declination, you should note that a second core update is scheduled for July 2021. With this, the June 2021 Core update is considered the half outcome of the core update, which will complete after the July update.
Now, the major query is why Google made this unusual attempt to release an algorithm update in two halves?
Google notified that some of their planned algorithmic improvements aren't ready till June 2021. Hence they checked their entry in the next month, i.e., July 2021.
Interestingly, Google has a few more updates in their bucket list, and page experience update is one among them. The page experience update was announced to roll out in May 2021. However, global outback paused its release, and it is still waiting for its entry in the search ranking signals. However, with most websites being mobile friendly and AMP-capable, not many websites will have their impact. Still, the count of affected websites won't be zero (at least).
Once the Core Update and Page Experience update release, the SEO world will experience more challenges than the present.
NOTE: Newbie readers, core update has no direct relation with the page experience update.
Google has rolled out numerous other Updates in the past. So, it's important to know previous big updates by Google that made a huge impact in the past.
Panda Update: It was first launched in 2011 but became part of Google's core ranking algorithm in 2016. Panda Update focuses on removing spam and weak content from search rankings.
Penguin Update: One year later, the Penguin update rolled out (in 2012) that focussed on omitting span links and stale websites from search results. It also penalizes the websites using artificial backlinks for ranking.
Hummingbird Update: 2013 was the start of smart Google search as it introduced Hummingbird update designed to understand your content better. By interpreting semantic search, the era of 'Long Tail Keywords' sprouted in the market.
Mobile Update: Mobile update, aka Mobilegedon, was released in 2015, making mobile-friendly websites a necessity. Instead, the mobile-friendly attribute of your website becomes a ranking factor.
RankBrain Update: This was the introduction of Artificial Intelligence in delivering quality search results. In 2015, Google added AI to understand user behavior better to respond with the most appropriate search result. Today, RankBrain is considered a vital ranking factor.
AdWords Update: In 2016, Google decommissioned the traditional 4-pack placement and right column placement for Google Ads. Instead, it moved everything onto the top of SERP, which ultimately increased the competition.
BERT Update: BERT is the acronym of Bidirectional Encoder Representations from Transformers, a neural network-based technique for neural languages to process the context and find best match search results. Google added the BERT update in 2019 to understand the content deeply (regardless of content length). It helps search crawlers to understand your context fast.
January Core: In 2020, Google announced to focus on EAT (Expertise, Authoritativeness, Trustworthiness). Content that aligns well with these objectives gets better search rankings.
Later in 2020, a few other core updates were also introduced, like May Core update and December Core update.
With time, Google adds changes to its crawling and indexing algorithm to serve quality results and maintain its realm.
As a small business, you should maintain working well to stay away from traffic downfalls (caused by such updates). Still, if you are stuck in a bad situation with degrading keywords ranking and declining traffic, hire a dedicated marketing team. A bespoke digital marketing agency can help you with the right practices to kickstart your business and retain the same position (in terms of reputation and traffic.