A new world record was set in September 2014 where nearly 12,091 people attended the largest webinar hosted by Glavbukh in Russia. Could you imagine that? The figure that has been reaching the surprising number is that you can understand the importance of the word "webinar".
In the developing years, many businesses and organizations have realised the outstanding potential of webinars as an effective marketing strategy as well as a tool. There was a survey conducted recently where the Content Marketing Institute discovered that webinars have ranked the 2nd. Why? Let's use infuse you with the idea.
It is the 2nd most effective form of content marketing. The sheer power of webinars has been so gaining paparazzi that nearly 66 percent of the marketers are making their way to implement such a great marketing strategy. Webinars will help you to position your brand in a competitive space.
Now, if you are associated with a large number of business that has acquired a drooping success through webinars, you need to garner the knowledge on creating a successful webinar. But how?
In this article, we will help you to garner all the details about the webinar and how you can successfully create and run a webinar on WordPress. Being a specific marketing tool, we will showcase you with the different effective methods that will help you to find the right way to create a webinar for your beneficial aspect.
What is a Webinar?
Mainly a portmanteau of the words web and seminar, you can gradually understand the simple concept of the word presented. Still, to give a better view of the same it is a form of presentation or seminar which is conducted over online platform through top-notch video conferencing software.
Businesses and organizations have recognized the importance of seminars long back. They have been allowing people to venture through the issues, discuss and express their ideas, garner new information from industry leaders, networking with peers, clients and generation of new leads.
One of the biggest problems with seminars is that they are pretty expensive and highly time-consuming. This goes both for the organizers as well as the participants. On the other hand, Webinars removes such a struggle.
It allows people to attend the seminar from anywhere around the world who are having a stable internet connection. As many Webinars have been offering on-demand access, people who are not able to participate in the live event will have the advantage of watching the webinar later when possible for them.
Why do you need to create a webinar?
Here are some of the solid reasons that will state why you need to create a webinar –
They are convenient
You can directly get in touch with the business partners as well as consumers from your home or office. It is also convenient for the ones who are attending as they will not have to travel to attend this online seminar. The increased convenience is that number of people are getting to sign up for the online seminar.
Webinars are cost-effective
When it comes to conducting Live seminars online, the only thing needed is advertising, displays, staff, transport and a proper place where you can conduct the event. Thus, it is cost-effective. For an effective webinar, you need a computer and a good internet connection.
Exposure to more audience
Yes! The webinar is that platform that will help in the promotion of your business. It will also enhance your exposure to a larger customer base and targeted audience. Anyone all around the world can be a part of your online seminar. You are allowing the platform to acquire potential consumers.
Increase Credibility
Through conducting a proper webinar, you are enhancing your credibility and gaining trust with your audience. The people will be able to see you and hear your brand. And this could be a better opportunity for a face to face meeting, the next time. Webinars showcase the added benediction of presenting you in front of numerous people just at the same time.
Interacting With Audience
Webinars have got the platform where you can approach your targeted audience directly. It will further give you clear knowledge and understanding of their needs and queries. Understanding what they need will rather push you to tailor your products, services and problem-solving ability to match their needs.
Great Marketing For Lead Generation
A webinar is an effective marketing tool that will help in fetching potential leads. During the signup process, you will be able to garner the names, email addresses and other important information from your audience. The best part about this online session is that all the people are qualified enough to showcase the interest in your product or service.
---
If you are still a little sceptical, let's take you to the venture!
For instance, the average conversion rate when it comes for a landing page turns out to be 25 percent. This conversion rate, if marked between 5 percent and 10 percent are considered inexplicable.
Recent studies, research and survey have stated that between 20 percent and 40 percent of webinar attendees transform into potential leads as well as consumers. So, if like 150 people are attending your webinar, nearly 30 and 60 of them will be your potential conversions.
During WordPress web development if you are not using a webinar, you are missing out on an effective marketing tool and strategy to enhance your credibility. Not only this, this could be an effective way to garner information about your audience, enhance your brand recognition, acquire potential leads and gain profitable revenue streamline.
When it comes to creating a webinar through WordPress, it is not that of a time-consuming process. Let's know-how!
---
Choosing the best WordPress Webinar Software
There are numerous software packages launched in the market that will further allow you to add the functionality of webinar to your WordPress site. Before delving into the same, you need to have the clarity on choosing the right webinar software.
Do you need a complete service to take care of everything, right from registration to attendee's feedback?
Will basic factures like a proper video stream and chat will meet your needs?
Are you looking for advanced features like file sharing, polling as well as detailed analytics?
Looking for webinar software for the integration of 3rd part apps and services like connecting to social media and payment gateways?
Do you want paid software or a free one?
---
PAID WORDPRESS WEBINAR SOFTWARE
If your preference is paid WordPress Webinar Software, here are three of the most popular choices in the market.
WP Webinar
WP Webinar is an easy to use software which is used by almost every WordPress development company. If you are willing to know about its specification, here to know more about this plugin –
The installation of the software is completed in 30 seconds.
The complete focus of the webinar software is on the ease of use. It further becomes the best choice for inexperienced WordPress users.
You can create recurring webinars. There are scheduled for broadcasting multiple times per day or week.
You will be able to utilize your WordPress theme for keeping the consistency between your site and your webinar page. Get to choose one of the customizable pre-made themes which you will find in the plugin itself.
You are entitled to secure yourself with customizable features. This includes video size, headers and button text allowing you to formulate a webinar that feels as well as looks original.
Integration of autoresponder in the market. The output of the code features into a fully customizable webinar opt-in.
You will be able to create a Thank You page that you can integrate with different social media platforms like Facebook, Google, LinkedIn and Twitter for helping you webinar go viral.
Addition of Call To Action areas that will help to appear during the specific times during your online presentation.
Making use of the Follow-up system for creating automated messages. It will remind your attendees for watching your webinar.
One-time payment where you will not need yearly renewals. It is one of the most cost-effective choices.
This one-time purchase will lead you to lifetime access to updates where you will be able to access the latest features where they are released.
This single-time purchase commences at $197 for a single site and $247 for multiple sites.
---
WP WebinarSystem
This is a customizable webinar software that will help people without any technical skills for creating a functional webinar. Here are some of the best of the features of this plugin.
Webinars are based on Google Hangouts on Air. This will further allow you to acquire an unlimited amount of viewers during the online seminar.
All the Webinar pages are going to be high- responsive and mobile-friendly. This will provide the viewers to become an attendee of the online seminar from any device with a good internet connection.
Creating a landing page for attendee registration is available. Display a countdown timer for your webinar. Not only this, you will be able to send reminders and notifications through the built-in email system.
Making use of the Incentive Box for delivering presents, downloads or any bonuses to your attendees.
There is a set of automated or recurring webinars that will help to display a recorded video at a set time and date.
Availability of integration with WooCommerce and different other popular payment gateways. This will allow you to charge people for attending your webinar.
Develop Call To Action button that appears at set times during life or recorded webinar. This button will allow you to redirect your attendees to an affiliate, check out the link or add to cart section.
People following your webinar will have the right to ask private questions that will appear on your dashboard in real-time. If you are implementing an automated webinar, these questions could be redirected to your mailbox.
It comes with an integrated live chat system, so you might not need to install any third-party software.
Collection of attendee information when they sign up and export it to a text or CSV file. This WP WebinarSystem is available in 26 different languages.
The free version of this software has got limited features. To switch to the pro version, it starts at $ 197 for a single site and $497 for unlimited sites.
---
Webinar Ignition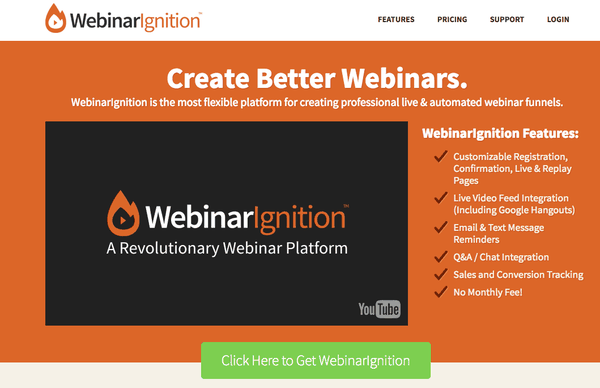 Webinar Ignition is another Webinar WordPress Software which is a professional and flexible platform for the integration of any WordPress theme. Its setup of the same is simple. Here are some of the best features of this plugin.
Creating live or automated webinars that will help in the linking of any video stream. This includes Google Hangouts on Airor LiveStream.
With the use of Live Console Hub, it is related to real-time monitoring of attendees, sales data and questions.
Integration of all the major email autoresponders is available. This includes GetResponse, AWeber, iContact and MailChimp.
It comes with a myriad of professionally designed page templates. It is customizable with your brand colours and images at the same time.
Attendees are entitled to signup through the one-click registration process. Adding a viral sharing feature to your confirmation page. It offers git incentives to the people who are sharing their registration links on social networks.
Exporting the details of "hot leads" who are willing to attend your webinar, watching the replay as well as helping them to become paying customers.
Pushing a Call To Action or any other HTML when you can pitch your product whenever necessary.
Increase your attendee rate by scheduling email and text notifications. It might help in the integration with any SMTP service or through Twilio.
Choosing between Questions Box and a Live Chat for your webinar page. It depends on the feature that is apt for every individual webinar.
It helps in the integration along with the popular payment gateways like PayPal and Stripe. It will further allow you to charge a fee for webinar entry.
It needs a one-time payment structure that does not need for yearly renewals. It comes for a cost-effective choice.
The plugin has a costing of $97 for a single site, $197 for 3 sites or $297 for unlimited sites.
---
The Ultimate Guide for Free WordPress Webinar Software
If you are willing to prefer for a free option, the best choice among the lot is Google Hangouts on Air. It has also shifted itself to YouTube live. It presents you with the basic features that are needed for hosting a webinar. This includes automatic recording as well as a DVR. It is one of the best choices for anyone on a budget.
Also, we recommend you that anyone interested in creating webinar through WordPress should try this option before acquiring a paid software. To provide you with a clear view of the same, we have combined some steps to adding Google Hangouts on Air webinar to your WordPress Site.
Before we go through the steps, you need to know that for setting up a webinar, you need a Google AdSense Account. In case you don't have one, make one which takes 12 hours and 3 days to be approved. Set up your account beforehand.
---
Creating a Google Account
To being with, you need to have a Google account. If you have, then you will not have to follow the step.
Creating a Google account is easy. Go into the Sign-Up Page, input all the detailed information and Click on "Next Step"
Review the Terms and Privacy to click on "I Agree"
Google will verify if you are the real person. Make sure you have entered the correct details. Choose text or voice verification too click on "Continue"
Put the verification code that you have received and then forward with "Continue". You are not ready to have a Google Account.
Since August 2016, Google is allowing people who are willing to embed live videos to have a Google AdSense account. So, here is the next step.
Creating a Google Adsense Account
Visit the Google Adsense site and click on the green button which states "Sign Up Now"
Fill in the details. Review the terms and conditions to click on "Create Account".
Input all the personal details along with your web address for complete verification process.
The next thing that you need to do is to paste the AdSense code to your WordPress site. Click on "Copy Code".
Open a new browser window and log in to your WordPress site. Now, you need to add the AdSense code to your WordPress site.
The method is a little bit different varies on the theme that you are using. The best method that works for all themes is the installation of Insert Headers and Footers plugin.
Go to your Dashboard menu and click "Plugins" and "Add New".
Search for the above-mentioned plugin and click on "install now".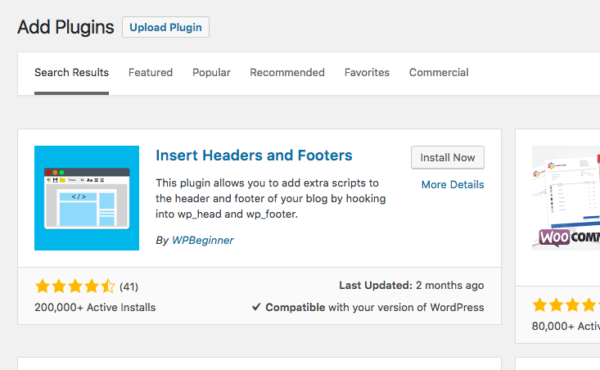 Furthermore, click on "Activate" followed by "Settings" and then "Insert Headers and Footers" directly in the dashboard menu.
Paste the code into the "Script in Header" section and click on "Save"
Head back to the AdSense page, review the confirmation box to click on "Done"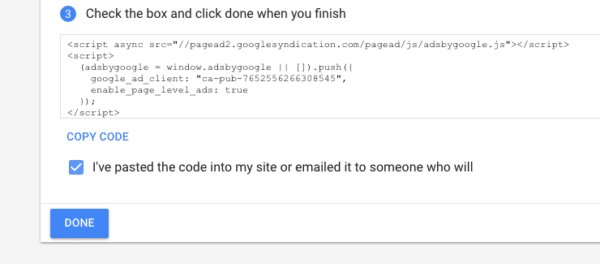 Google will be reviewing your site and send you an email once it is finished. It nearly takes 3 days for completion or might take less than 12 hours.
Once the confirmation is done, it is time for the next step.
---
Creating a New Event on YouTube Live
Now you need to create a new event on YouTube Live. For this, go to Google, click on the 3×3 app icon in the top right corner of the page and click the link to YouTube.
Or let's make it simpler, you can directly click on youtube.com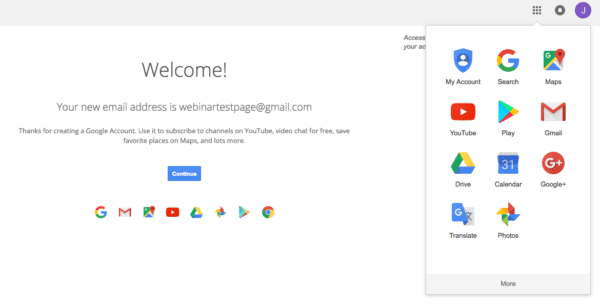 If you follow the first step, you will be automatically signed in. In case not, there is an easier method of direct sign up through Google click on the same and enter your Google password.
Click on "My Channel" which is there in the left menu.
Enter your details and review the terms and conditions to click on "Create Channel"
Now you need to let YouTube recognize your Adsense account. To enabe the same, go to https://www.youtube.com/features.
Click "Enable" in the Monetization box.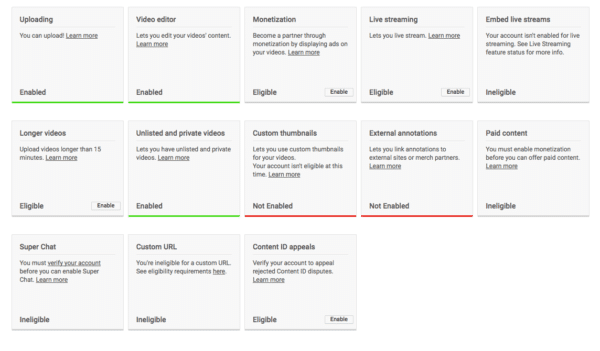 Click on the blue start button, go through the terms, review the boxes and click on "I accept"
Again, click the start button just next to step 2, click "Next" and sign in to your AdSense Account.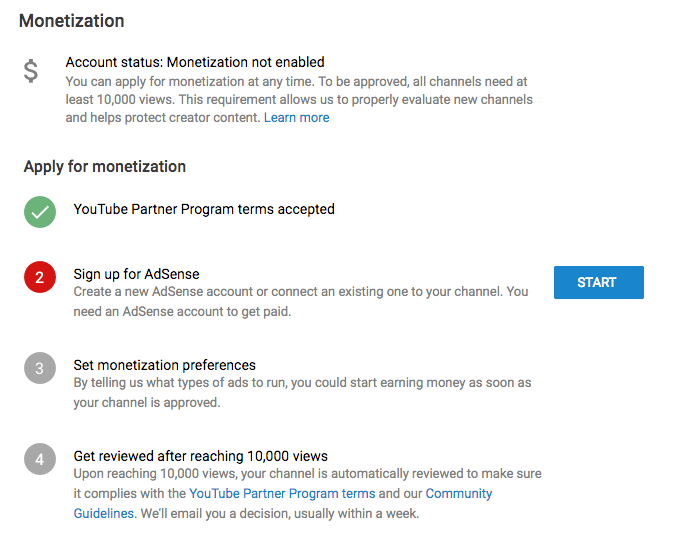 Check your details and then click "Accept association"
You will be redirected to your dashboard, click on the blue "Start" button to go to step 3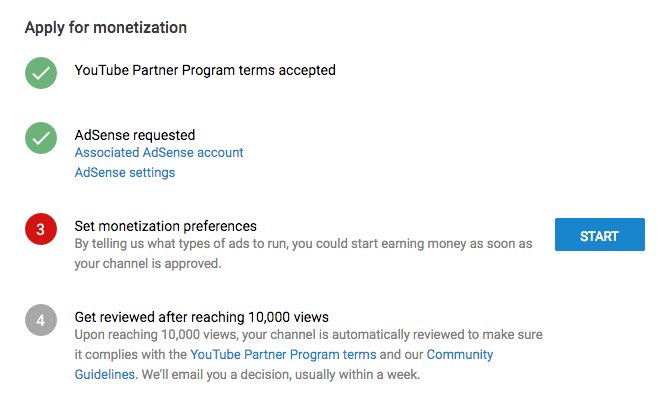 You can choose to monetize or not for all the videos. It will not affect your ability for embedding webinar videos. Now Click on "Save".
You need to set up the webinar video. To make a webinar, create a live event. For that click on the "Video Manager" link.
In the left menu, "Live Streaming" followed by "Event" and then on the blue "New Live Event" button.
Verify your YouTube account. So enter your details, get the verification code and enter it on the next screen.
Now that you are verified check that the embedding is enabled. Go to the "Channel" menu on the left.
Live to stream and embed live videos will be enabled.
Create the webinar even by clicking on "Live streaming" on the left menu. Go to "Event" and then click on the blue "Schedule a new event" link.
Input the name of your webinar, date and start time. Make use of Google Hangouts on Air.
You can also tend to decide whether you want your webinar to be Public, Unlisted or Private. Public states it is viewable by anyone, Unlisted events are viewable by anyone who has the link and the Private events are viewable by only those people who you are going to invite personally. For most people, Unlisted will probably be the right option.
---
Customizing your event
If you want to customize your event further click on "Advanced Settings".
Select languages, set age restrictions, you can also change the recording setting and numerous other things. For a standard webinar, you might not need to change such things. When you are making such a step, make sure that "Allow embedding" is checked
After you are done, click on the "create event" button. The next thing is to fetch the link to the video.
Click on the title of your webinar. You will find the grey screen with a countdown timer.
Click on the "Share" button under the video. Click on the "embed" tab. Copy that code and keep it with you. It will be needed later.
---
Creating a new event page for WordPress Webinar
The video segment is all set. It is time for creating a new page for displaying the webinar. For this step, you will be making use of the standard WordPress Twenty Seventeen theme. Just open your WordPress dashboard and click on "Pages" followed by "Add New".
Enter a title for your page
---
Embedding your WordPress Webinar
It is now time to paste the video code that you copied. So select the "Text" tab. Paste the video embed code directly into the page.
Click on 'preview" to be sure that the video is linked. Viola! You have now the webinar video ready for broadcasting.
---
Creating a Signup Page
For a successful webinar, you will have to know who is going to attend your webinar. It is time to create a signup page.
This will link this page to the email marketing tools. Before creating a new WordPress Page, give it a proper name.
Write a relevant description of your webinar and use the "visual" tab now.
Make it simple yet information to garner the attention of the audience.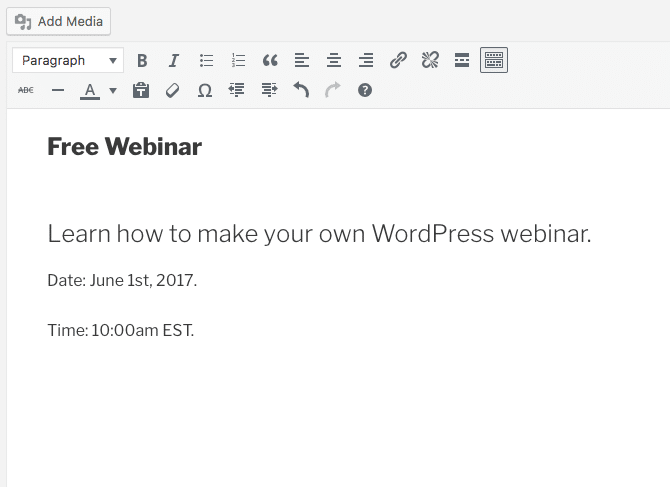 Now, you will create the form for acquiring the attendee's information
---
Add a form through your email marketing tool
Creating a new form? For that, you need an email marketing tool. There are different marketing tools that you can choose from including MailChimp, Converkit and AWeber.
Let's take the example of a MailChimp account. Head to the site https://mailchimp.com/.
Click on "Sign Up Free"
Input all the details and then get "Started"
Confirm your email address, fill in the personal information and head to the MailChimp dashboard.
For creating a form, get a list. Click on "create a list".
Fill in the details and click on save.
Click on the "Signup forms" tab, and click "Embedded forms".
You can change the form title and the information at the same time. When you are done with everything, copy the code from the "Copy/paste onto your site" box.
Get back to the signup page, click on the "text" tab and paste the code that you copied
Click on "Preview"
Now you have not the sign up page where you can acquire the details of your attendees.
---
What's next?
Once creating your webinar is ready, you need to review if the process is successful. Here are some things that are worth the try.
Conduct a test webinar to familiarize yourself with YouTube live control. Make sure that there should be zero technical errors else it might ruin your first live webinar.
Add social media plugin for promotion and share of your webinar.
You should have an interesting and innovative presentation for your attendees. It is important to garner the attention of the audience.
Creating a replay page for allowing the attendees to come back and watch the recorded webinar anytime. YouTube live automatically saves your webinar. It is quite simple as creating a new webinar WordPress page and linking the same.
Choose the right time and day to broadcast the webinar to acquire maximum attendance.
Proper promotion of your webinar is the key to success. Share the registration forms, fetch ore beforehand, conduct promotions for the same.
For sending promotional emails, Tuesday, Wednesday and Thursdays are the best days. Weekends are not that effective though. For holding your webinar session, best days could be Wednesdays and Thursdays. Friday, Saturday and Sunday draw the lowest audience.
Schedule a time where people will be most active. Skip lunchtime and commuting time for the majority of your audience. The average viewing time is nearly 57 minutes. Make sure to conduct the webinar for less than an hour.