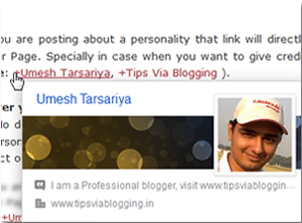 As we all know that Blogger and Google Plus both are the products of a Google, Yesterday i have received notification when i write one of the post to publish on this blog. The notice is all about to adding name of a Google plus profile or page. In Facebook you might have use such kind of function to mention your friends in status or a comment. But in Google Plus you will be able to add a name of a person that is not in your circle & not following you. This feature is necessary to drown attention towards the specific personality that associate with the post.
according to Blogger Buzz
Blogs are a great way to spark a conversation, and today we're giving you a new way to grab someone's attention: Google+ mentions in Blogger.  Now you can add a link to a Google+ profile or page when you want to mention someone in a post. If you then share your post from Blogger to Google+, we make it easier to notify your mentions by including them in the sharebox.
Recently Google plus has introduced Google+ Following widget, and now today only other good news for blogger user is that now they are able mention name Google plus profile or page. It will not be surprise if Google plus and Blogger both are synchronize there comment system.
This will be more useful when you are posting about a personality that link will directly go to there Google plus profile or Page. Specially in case when you want to give credit to your co-author (For example: +Heeren Tanna, +Tips Via Blogging ).

And keep in mind that when ever you mention some one in your post he/she will be get notification about it, No doubt it will increase your blog traffic but it doesn't mean that keep mentioning persons name which is not related with the post that practice will creates wrong impact on visitors mind.


When any visitor will hover mouse on a mentioned name automatically all information will be popup on page. If you are attached name of a page, user will be able to subscribe page through link. You can see that on above screenshot.
To mention people on your blog post, you need to write sign '+' or '@' in front of a name of a person or page.
Hope you enjoyed this post kindly share what you feel about this new update. and what if Google plus change or synchronize comment with blogger? your valuable suggestions, questions, feedback is very much important for us kindly comment it below. We love it a lot 🙂