Hi, I'm Heeren. I've been blogging for 10 years now and ive created this guide to explain you how to start a blog the easy way without any technical experience.So, Let's get started.
What is Blogging
Blog, in simple terms is an online diary or journal, and blogging is writing in your blog about any topic you like. People who write a blog are generally called 'Bloggers'.
Originally, blogging meant people writing about personal events in their lives as well as things that they had on their minds. But for the last few years, blogging field has entirety become more sophisticated and mature.
Why You Must Start a Blog in 2019
In today's commercial, internet-driven times, people start a blog to promote their service or company, individuals blog about their experiences whether its travel, cooking, parenting, health tips or product reviews or even just to make money.
Starting a blog can help you to
Increase Business Visibility: As part of branding, many companies start blogs about their products so that these blogs can convert visitors to potential clients.
Get Recognition: A blog is a fine way of achieving recognition as an expert, as people visit blogs to learn about things that pique their interest.
Make Money: A successful blog can help you make full-time income and you can quit your day job (fingers crossed)
Get more exposure for your existing business or organization: A blog gives anyone from individuals to large companies, the ability to reach a larger audience in very little time and meagre expenditure.
Types of Blogging
Travel Blogger – Writes about travel tips
Lifestyle Blogger – Writes about his/her own way of living.
Personal Blogger – Shares his story or opinions or promotes himself.
Business Blogger – Company or corporate blogs
Food Blogger – Writes about food, might be reviewing restaurants or different cuisines
Fashion Blogger – Shares tips on fashion could be apparel, beauty, accessories tips etc.
Parenting Blogger – Shares tips on parenting
Technology Blogger – Writes about technology products like gadgets, technological advancements, etc.
Finance Blogger – Blogs about finance tips, might be personal finance or about finance hacks for individuals.
Niche Blogger – Niche bloggers generally share their views and experiences in one particular niche/topic. For example, a digital marketing blog that gives away tips on various aspects of digital marketing.
How to Start a Blog
Well, before starting a blog, you must ask yourself few questions.
What do I plan to write about?
Do I have enough knowledge on this topic?
Will I be able to write at least 200 blog posts about the topic I chose?
Do I want to make money from blog? If yes, how will I monetize?
If you are planning to start a blog with a long term vision, then answer to these questions must turn be positive.
Here are easy steps on 'How to Start a Blog and Make Money From it in 2019'
Step 1 : Choosing Blog niche or deciding what to blog about ?
Starting a blog is a long term commitment, so you need to come up with a months' worth of posts on a topic to keep a steady flow of ideas and thoughts. The blog topic must be something the you are really interested in or has an expertise in. If the blog is commercial, then the product should take the center-stage.
My advice would be to jot down at least 20 blog post ideas before launching the blog. There are lot of blog post idea generator tools that can help you with this. If you are making new start, kick off from the very basic, explain everything about the topic. There may be tens if not hundreds of sites talking about same thing, but still you can write it in your own way and give it a twist.
Step 2 : Choosing Blog platform (WordPress).
It is important to select an appropriate blogging platform. While there are many blogging platforms like Blogger, WordPress.com, WordPress.org Self hosted, Tumblr, Medium, Ghost, Wix, Squarespace etc., Worpdress is the most popular and preferred one.
WordPress
WordPress is the most popular CMS in the world and 32% websites on the internet run on wordpress. It is the most suitable to start with. Nowadays, wordpress is being used to make various kinds of websites. Checkout Showcase page on wordpress and you'll be shocked to see the type of sites using wordpress as their platform, right from the White House to New York Post, The Next Web and even The Walt Disney Company.
Medium
Medium is an excellent choice as it's the fastest way to start a blog, especially a collaborative blog. But it is difficult to move it to your own domain name when you want to. You are restricted by design and a lot more additional features.
Squarespace:
Squarespace is high-priced, but provides the blogger with content manager, web hosting, creative template designs and the domain name, all in one go. They also have a very effective 24/7 customer support.
Step 3 : Choosing Domain Name.
Okay, so for people who are not so tech savvy, domain name is your web address like this blog's domain name is www.heerentanna.com. Got it?
As you are just starting, do not worry much about the name, it's just like choosing your username. For now just keep in mind to keep your domain name easy to spell, short, easy to remember, choose a .com if available and avoid hyphens '-'. If you are starting a blog about yourself use your own name just the way I did – www.heeretanna.com 🙂
But don't go to buy your name yet. I'll show you how you can get a free domain name in my next step.
(I'll also write a blog post on 'How to choose a domain name for advanced users' maybe a little later.)
Step 4 : Choosing a Web Host
A web host, or web hosting service provider, is the vendor who provides you with disk space & bandwidth to host your web pages and ensures they are live 24X7. Think of it this way, your domain name is your store address and web host is the piece of land where you are starting your store or office.
Well, there are hundreds of web hosts on the internet but you should be very careful when choosing a web host.
Things to keep in mind when choosing a web host
Trust worthy host
Good Features like unlimited emails, disk space and bandwidth
Prompt and 24X7 support
I've used almost all popular web hosts like HostGator, Bluehost, Siteground, etc. in the past. But currently using Bluehost which is also recommended by wordpress itself; check it out yourself WordPress hosting. I personally recommend you to go with Bluehost as I am currently using it and I find it very easy to use specially for new bloggers. Installing wordpress or a blog with Bluehost is very easy with the feature of '1-click WordPress installation'.
Bluehost customer support is also amazingly quick, don't just believe me. Go to www.bluehost.com and click on their live chat and I can assure you, you'll reach a chat person within a minute and they have lots of guides, video tutorials too to help you.
Slow support and huge turnaround time was the reason I left Hostgator after 3 years of using their services.
You can sign up just at $3.95/month (Special Price OFFER)
A FREE domain for one year (It saves your $12 -$15)
24/7 Customer support
Free WordPress Integration
Refund within 30 days of signing up if not satisfied
Free SSL included – Protect your website visitors with one click
Here are few steps which you can use to start a blog in next 15 minutes
Step 1 – Click this link to open Bluehost. It will redirect you to the main page where you can click the big green button 'getting started now'. When you'll sign up through this affiliate link, you may get few extra benefits too. (Thanks for signing up).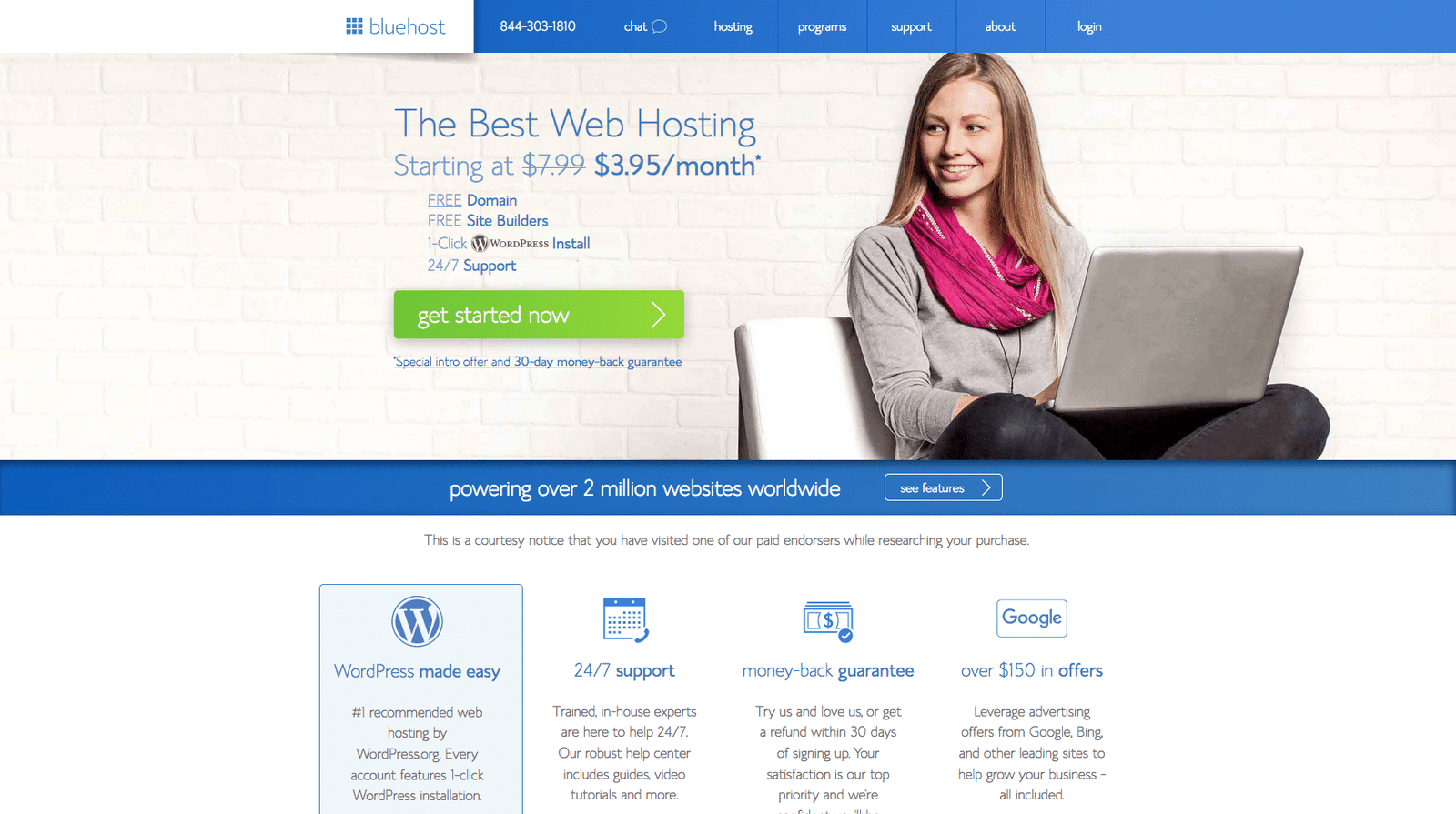 Step 2 – You can select a preferable hosting plan.
If you are planning to run this one website only, Basic plan is good enough (you can always upgrade later in just few hours if needed). When you buy web hosting for one year or more You'll also get your domain name registered for free, which will save you $10 to $15.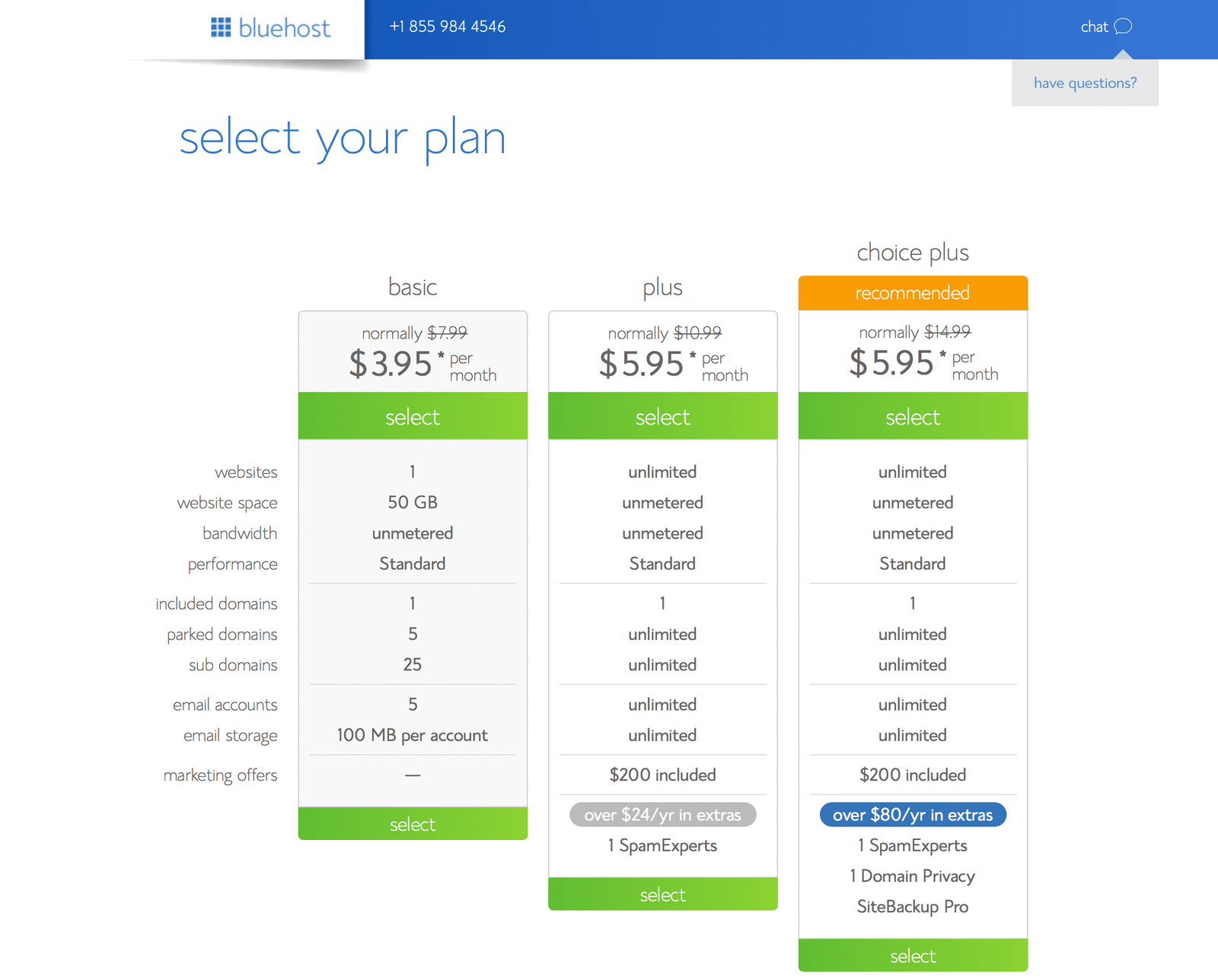 Once you select the plan and click select, it will take you to domain name page. If you have decided your domain name just enter in new domain as shown in below image.
after filling the domain name field just click the next button, which will take you to account information page, where you would need to fill basic details like your name, email and address, etc. to create an account.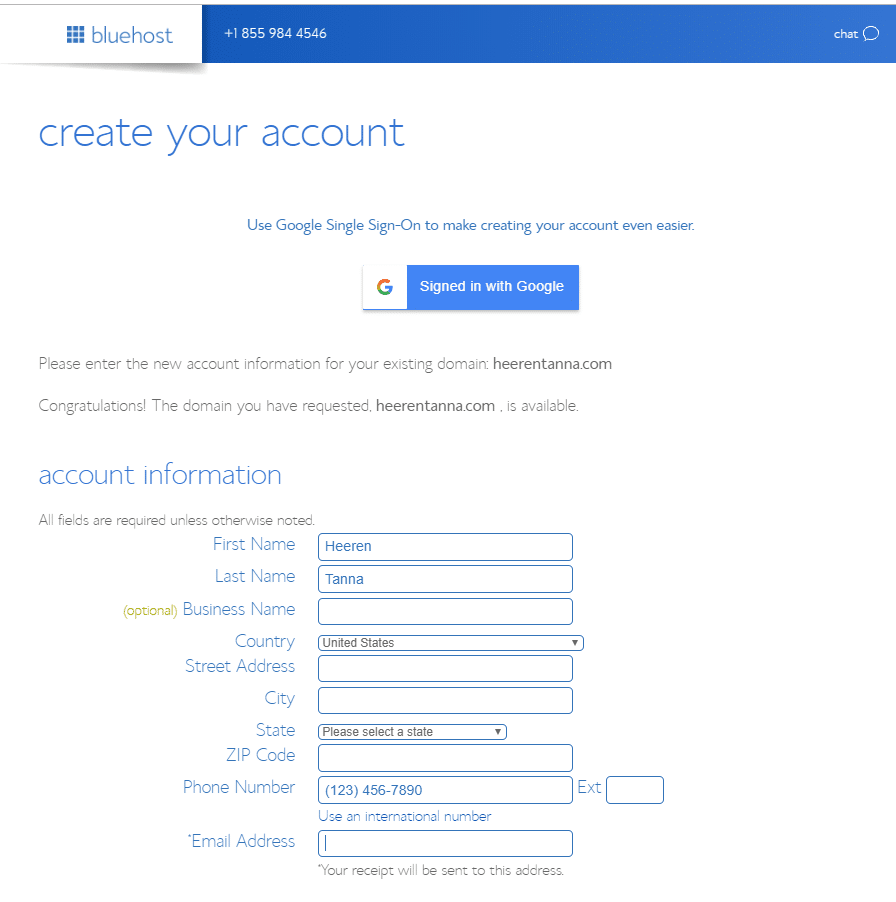 Next step is to choose package & duration and add-ons from the drop down menu. Just choose annual plan no add-ons are needed as of now.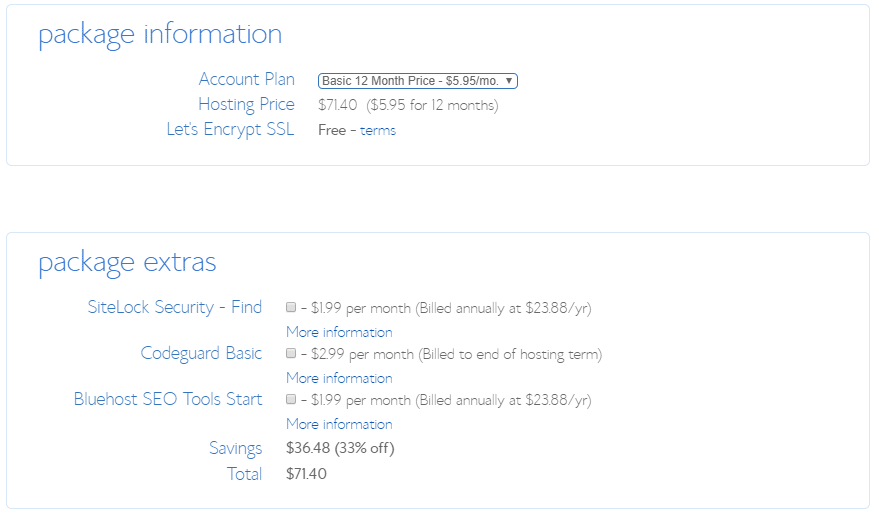 Once you are done with plan selection, final step is to pay 🙂 Just enter your credit card details and complete the payment.
Congratulations you have taken the first step into your blogging journey. Welcome to the club.
After completing the payment, you'll be redirected to password creation page, make sure you use a password which is difficult to guess by others.
Tip : use at-least 8 to 10 characters and mix it up with small case, upper case alphabet and symbols or use a site like passwords generator to generate a strong password.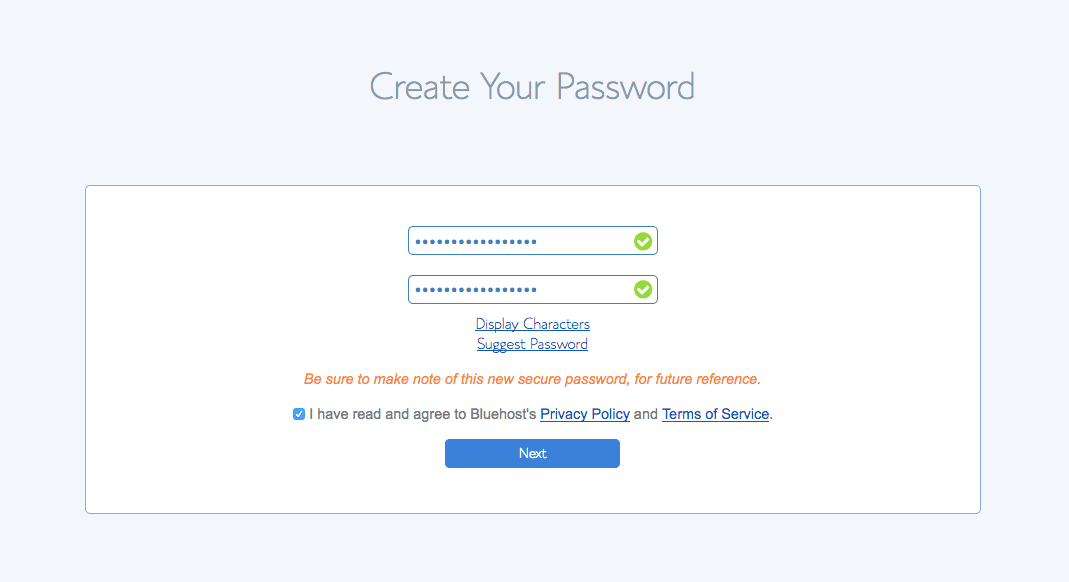 Step 5 : Now Pick a theme or design for your blog
Choose a wordpress theme that you like on Bluehost and follow the steps on screen.
Launch your blog and manage your entire blog from bluehost dashboard
Here on this screen, enter site title for now think of it as your blog name + Topic for example : Heeren Tanna – Digital Marketing blog and in site description, describe your blog in 150 characters max.

This is your bluehost dashboard, where you can manage things like creating new email ids, FTP accounts, upload files via file manager, backups etc.

Yayyyyyy you did it! See it was so easy, but this is just starting the blog. now comes the real part.
Step 6 : Install recommended wordpress plugins
So, you've installed wordpress,now you need some important wordpress plugin in your site. WordPress Plugins are like apps on your smartphone gives you additional features for your WordPress site. By adding plugin to your WordPress site, you will have many extra features to your blog like photo gallery, video gallery, slideshow etc. Check out some most essential plugin to install in your wordpress blog.
Akismet :This is very helpful and WordPress recommended Plugin. You can prevent the spam comment easily by this best wordpress plugin. Actually It will help you to prevent your wordpress website hacking indirectly.
WordPress SEO by Yoast: This is the most popular and widely used SEO plugin. SEO by Yoast allows you to add XML sitemap, Meta titles like Title, description and open graph tags to your website.
Jetpack by WordPress.com: Jetpack is a WordPress plugin by which you can see your site stats easily. You can check your wordpress website visitors, page view etc through this plugin. Jetpack also has features using which you can auto publish post on social media account.
Wordfence : Wordfence is a another most widely used and popular wordpress plugin. It will prevent your site hacking and ensure your wordpress website security. If you use premium Wordfence, you needn't worry about your site security.
BackupWP : (Must have) The backup plugin BackWPup can be used to save your complete installation including /wp-content/ and push them to an external Backup Service, like Dropbox, S3, FTP and many more.
Conclusion
i am sure this article helped you to understand how start a blog and setup wordpress themes and plugins easily. this is just the beginning of your blogging journey. Now you should start adding quality content on a regular basis, there will be days when you lose motivation and feel like giving up, but DONT.
There is huge community of bloggers on the web just get in touch with me or any of the blogger in your niche and i am sure they will be able to help you and clear your doubts related to blogging.
---
If you liked this blog and have learned something from it, kindly share it with others help more people like you.