[dropcap]G[/dropcap]oogle custom search engine, A search service by a Google where through we are able search on google with single domain which means if some body search on your blog using your CSE (Custom Search Engine), they will remain on our blog only. with help of this advance search facility your blog visitors will find what they actually need. This will create a strong relationship with visitors along with this you have chance to make money using google cse.
When we heard a name "Google" we take it as a branded and trust worthy source. Google is a market leader in many field. You are on this page so let me assume that probably you may blog on blogger right? blogger is also the product of Google. By following this tutorial you are telling your visitor indirectly to revisit your blog.
Create Google Custom Search Engine for Blogger.
Step 1: Visit official page of Google CSE (Custom Search Engine).
Step 2: Click on Add button to add search engine.
Step 3: Fill up the entire form as per instruction
Step 4: Congratulation!, you have created Google CSE.
Step 5: Click on Get Code Button & Copy the given code.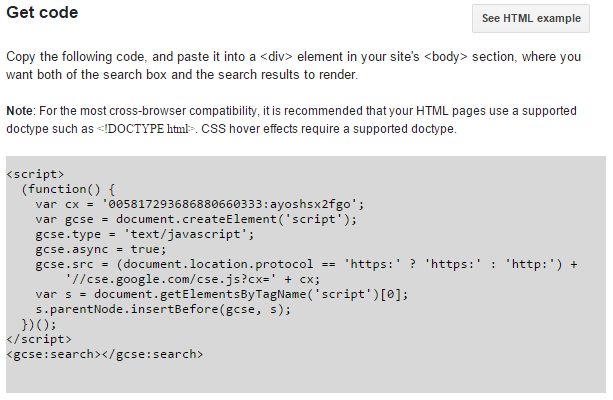 Step 6: Navigate: Blogger Dashboard > Layout > Add Widget > add HTML/JavaScript.
OR
Use below widget, Follow simple instruction.
[sc:addwidget ]
Step 7: Give title as "Search" and paste the copied code in field area.
Step 8: Click on save button.
That set.
Conclusion:
I have updated the latest screenshot in the given post, previously it was very long process to make Google CSE. If you have any problem or want to share something than kindly drop your valuable comment below. Thanks you.