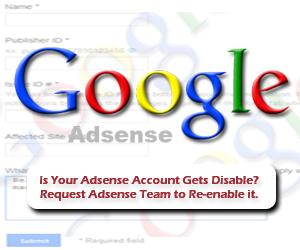 For the purpose of  making effective there services at both point of view advertiser and publisher, Google is very strict and serious about there program policy. And hence Google Adsense is the most trusted and higher revenue provider in the world. Many a time is found that many  publisher gets there account disable by mistake or not having enough awareness about Adsense program and policies. Its is but obis that any business in the world will not employee you if you violating rules and regulation of the company. If Adsense account  has been disabled to your website or blog as a result of a policy violation, than this post will surly helpful to you.
According to Google Adsense team…..
If ad serving has been disabled to your site as a result of a policy violation, you may request that we re-enable ad serving to your site by submitting our form below. However, please keep in mind that we reserve the right to disable ad serving to a site, and in some cases ad serving will remain permanently disabled.
Before moving further You must go through following link.
Now i assumed that you have make changes required to your website or blog. now follow simplest step that mentioned below.

Be sure that Before submitting form access to your AdSense login email, update your AdSense login if you have login with other email id.
You are required to fill up the form which is provided by google click on you can directly able to go ti the link just click on [link].
Fill up the simple details like Name, Pub-ID, Issue-ID, Address of your blog and reliable reason that changes made in your website and blog.
(You can find the Issue ID at the bottom of your email notification or you can find it on adsense website under home tab.)
That set click on submit button.
If you having any further query you can email it to adsense-support@google.com
That set ! Is this post helpful to you? Feel free to Share your thought, suggestions, Query any thing that you would share with us comment it below. We love it a lot. 🙂